Helping rebuild after the 2019/20 bushfires with spatial data
May 2020
Bushfires ravaged NSW and much of Australia throughout the summer of 2019/20, beginning in September, two months earlier than the normal fire season. Now all controlled and extinguished, the clean-up and recovery efforts will be ongoing for some time. Teams across DCS Spatial Services have been working together to provide up-to-date spatial data and infrastructure to help with efforts to rebuild communities. The Spatial Services Emergency Information Coordination Unit (EICU) has, as always, been front and centre of our emergency response and recovery work. Teams from the Office of the Surveyor General (OSG), Cadastral Spatial Programs, Environmental Spatial Programs and Administrative Spatial Programs have been contributing data and expertise to ensure that recovery efforts are of the utmost effectiveness.
Emergency spatial resources
EICU provided a significant contribution throughout the NSW bushfire crisis. As is always the case, during major planned or unplanned events and incidents, EICU is involved, collaborating behind the scenes on information supporting strategies and operations for prevention, preparedness, response and recovery. EICU is involved in emergency situations like bushfires, floods, terrorist attacks and natural disasters coordinating geospatial intelligence to minimise the impact of disasters on people and their homes and property.
During the bushfire crisis this specialised team provided personnel to Rural Fire Service Operations and Management teams as well as providing support to both the State Emergency Operations Centre and Government Coordination Centre. EICU took on the role as the central hub for emergency data sharing across NSW Government, sourced intelligence and imagery as required by decision makers and supported the State Emergency Recovery Controller with intelligence regarding recovery operations.
In addition to these roles in the peak of the crisis, EICU is now working with Infrastructure NSW on a project which includes infrastructure and asset mapping that will allow for better planning, forecasting and response approaches to future bushfire and emergency events.
Addressing the recovery
The Service Point and NSW Point products from Spatial Services Administrative Spatial Programs team have been employed by Service NSW in helping small businesses impacted by bushfires get back on their feet. NSW Point validates addresses entered by applicants when applying for the Small Business Bushfire Support Grant, the Small Business Bushfire Recovery Grant as well as when registering for the NSW bushfire clean up service. Service Point interactive dashboards then enable Service NSW to spatially analyse the areas where registrations are being made and prioritise services in these areas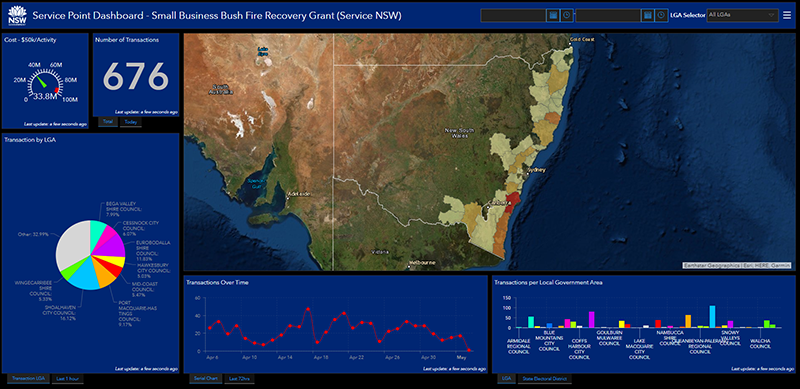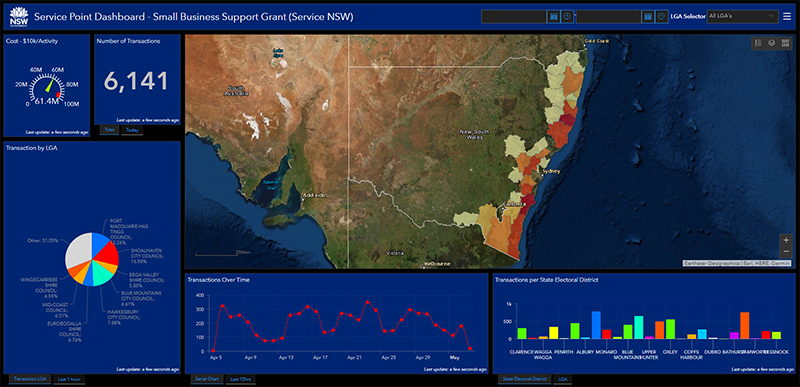 The Small Business Bushfire Recovery and Bushfire Support Grant dashboards which allow prioritisation of priority areasthrough spatial analysis of applicant locations.
Survey infrastructure restoration
OSG field crews have been busy restoring Survey Marks that were damaged or destroyed by the recent bushfires. The image below shows TS5899 'Charles' that was damaged by the bushfires that ravaged through the Blue Mountains both before and after its restoration.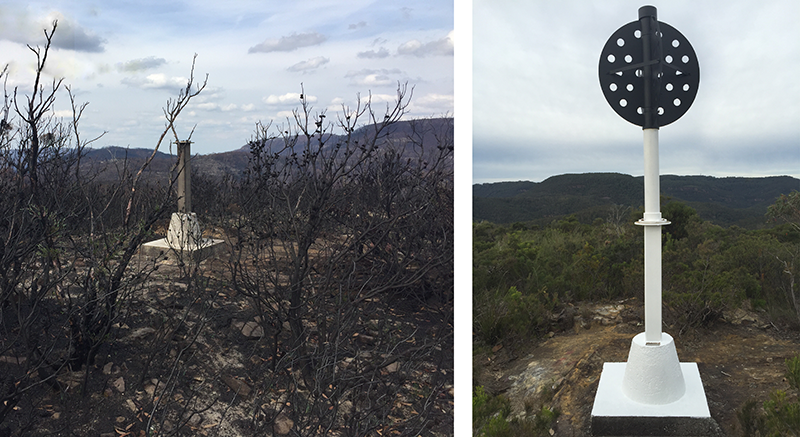 Survey Trig Station "Charles" (TS5899) damaged in the 2019/2020 bushfires, and after being restored by Spatial Services Survey Operations field crew.
Survey control data update
In addition to repairing the physical infrastructure in damaged areas, OSG field crews have been working to provide updated survey control in and around the towns of Balmoral, Buxton and Fitzroy Falls. By ensuring that the survey control data is up to date, surveying measurements taken from these points are current and take into account tectonic plate movement.
Cadastre boundary accuracy improvements
The updated survey control allows the Cadastral Spatial Programs development team to more easily complete much needed cadastral upgrade work. Spatially accurate cadastral (lot/deposited plan/strata plan) boundaries support and benefit property owners and local governments throughout the recovery period.
Spatial Services' Cadastral Spatial Programs has accelerated this cadastre improvement process as a result of undertaking a review of bushfire impacted properties in NSW. Priority areas, requiring cadastral positional improvement were able to be identified after spatially analysing property boundaries, imagery and spatial accuracy vectors. The Cadastral Spatial Program development team is working in these priority areas to upgrade the Digital Cadastral Database (DCDB) boundaries.

Before (red) and after (blue) cadastre upgrade in Wingello, NSW.
Imagery and LiDAR capture over impacted areas
Spatial Services Environment Spatial Program team has been working with key NSW government agencies since September 2019 to ensure they are adequately supported in their bushfire recovery efforts. Starting with the capture of airborne LiDAR and imagery for fire affected areas in Northern NSW the area of coverage was extended as the fires were gradually extinguished. The imagery and LiDAR captured in the wake of the bushfires has allowed for the massive geographic extent and impact of these fires to be mapped and documented.
The almost 50,000 square kilometres of bushfire affected areas across NSW has been marked to be captured by Environmental Spatial Programs aircraft, a Cessna 421c. The aircraft is in the process of capturing 50cm resolution 4-band imagery (RGB+NIR) which will initially be delivered as a rapid response product to better assist the recovery teams with timely data. A higher spatial accuracy and imagery quality product will be delivered later. Recovery teams from Department of Planning, Industry and Environment, Rural Fire Service and Local Governments, along with other state and federal agencies, are using the imagery to make informed assessments about where and how the fires affected communities, infrastructure and the environment. The imagery will have an extended role in assisting those communities impacted by the devastating fires to recover more efficiently.
| | |
| --- | --- |
| | |
Examples of Near Infra-red (NIR) (left) and aerial (right) imagery over a bushfire affected area. In the NIR image, the red areas indicate normal, healthy vegetation, the surrounding areas indicate burnt vegetation.
Working with councils for recovery
Spatial Services is continuing to work closely with local governments and other state and federal government agencies to ensure critical areas are prioritised. Several local government areas already supported by updated Spatial Services spatial data and infrastructure include Wingecarribee, Wollondilly, Bega Valley, Shoalhaven, Eurobodalla and Bilpin (Blue Mountains) ensuring bushfire recovery works are effectively rebuilding these communities.