October 2022
DCS Spatial Services has secured access and distribution for two new Geoscape datasets: building footprint and trees coverage. These datasets have been procured for distribution exclusively to NSW Government agencies providing local and state government access this data through DCS Spatial Services at no cost.
DCS Spatial Services is accessing this new Geoscape data to develop 3D visualisation used in innovative programs such as Live NSW and the NSW Spatial Digital Twin. 
Geoscape datasets available for NSW (whole-of-government only):  
Building footprint: Format - Geodatabase (GDB) and Shapefile (SHP)
Tree coverage: Format - GeoTiff
Both are full NSW state datasets, with the building footprint SHP file only to be made available as an LGA area supply. The arrangement between Geoscape and DCS Spatial Services is for a regular quarterly update to be made available for two years commencing June 2022.
How to access
All enquiries must be made by lodging a data request via the Spatial Services Customer Hub. Visit: https://www.spatial.nsw.gov.au/contact_us 
New users will be prompted to create an account using their email address and one-time password setup. Following receipt, a short questionnaire will be issued to outline the purpose for the data and to ensure acceptance of the terms of use. The data is subject to terms of use with restricted application, which must be accepted prior to supply. 
Product outline
Building footprint
This is a digital dataset that spatially represents buildings. The related features are used by industry and government in geographic information systems, visualisations, engineering modelling, and for the derivation of analytics. 
The Building footprint product is comprised of four layers; buildings, building cad, building property and building address. The buildings layer provides a spatial representation of the roof outline of a building as well as associated attribution including building height values, roof material and colour, and building area and volume.
Product information is available here:  https://geoscape.com.au/wp-content/uploads/2022/03/Buildings-Product-Guide-v3.1.pdf  
Tree coverage
This is a raster dataset representing tree coverage and heights, derived from remotely sensed data. The Trees theme consists of two layers: Trees, and Trees metadata. The Trees layer consists of a digital pixel representation of tree coverage and associated heights derived through DEMs, while the Trees metadata layer represents any manipulations or insight into Trees layer pixels values, or absence thereof. The theme is comprised of pre-defined urban areas at two-metre resolution.  
Product information:  https://geoscape.com.au/wp-content/uploads/2021/11/Trees-Product-Description-v1.7.pdf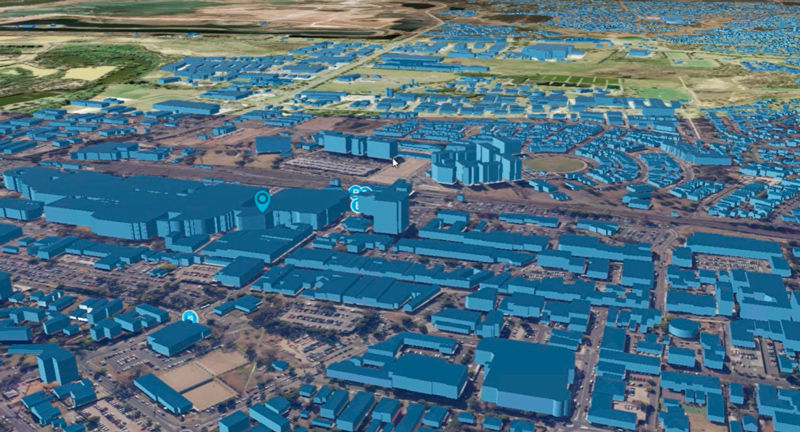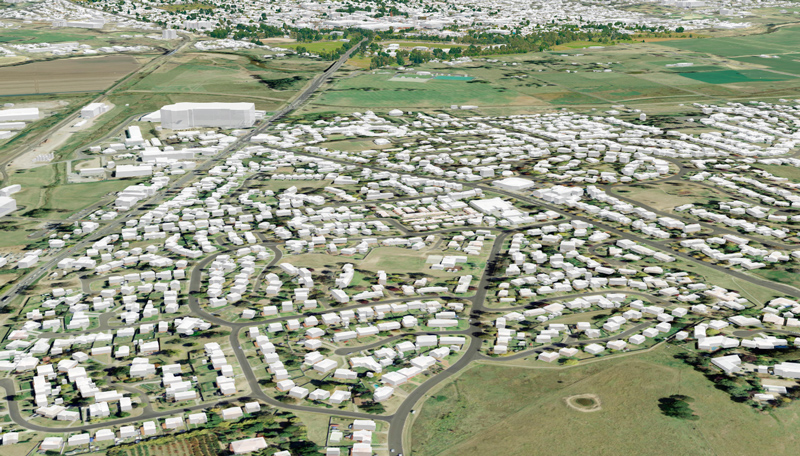 The above 3D images are extruded with attributes provided by the Geoscape building footprint data.