NSW Surveyor General International Fellowship 2018/19 – an international perspective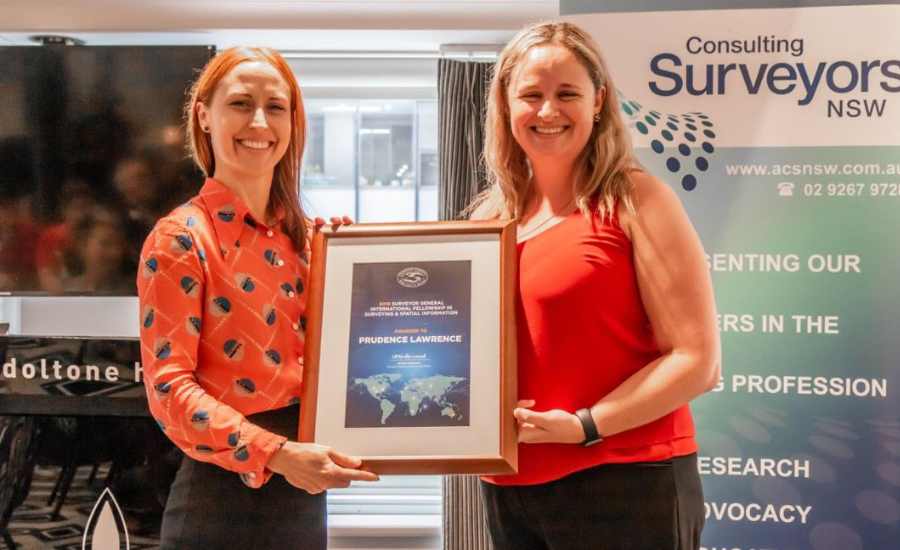 Photo: NSW Surveyor General Narelle Underwood and 2018/19 NSW Surveyor General International Fellowship Recipient Prudence Lawrence.

Established in 2006, the prestigious NSW Surveyor General International Fellowship Program encourages innovation in surveying and spatial information by providing an attractive career development opportunity for its recipients to experience both in Australia and overseas.
The successful candidate is awarded a one-off grant of $15,000 to put towards international professional development and research opportunities at their own discretion.
In 2018, Spatial Services' Spatial Technician Prudence Lawrence, was awarded the fellowship grant to support her research into three-dimensional modelling of land and property across NSW. To be selected for this prestigious fellowship Prudence presented her proposal to a panel of industry leaders where she addressed the complexity surrounding cadastral modernisation.
Much of Spatial Services' work relies on surveying and spatial skills, both internally and externally, to deliver key business outcomes supporting business and regulatory functions. There is a current and historical shortage of qualified surveyors in New South Wales and Australia wide, making it challenging to attract and retain skilled graduates, which is why Prudence's experience as a recipient of this grant has been tremendously valuable to both her career development and her ability to contribute to Spatial Services organisational goals.
Representing the 3D Cadastre
The fellowship grant provided Prudence with greater insight into the advancements in international 3D and 4D cadastre and research development. It has also expanded her technical knowledge base and contributed to her role as a Standards Australia Smart Cities committee member. She said the knowledge she gained through the fellowship would contribute to the development of key cadastral projects she is involved in, such as strata survey plan digitisation and bringing tangible benefits directly to Spatial Services and the survey and geospatial industry as a whole.
'The network-building opportunity with international geospatial professionals who are addressing GIS and Remote Sensing integration with Smart Cities Development was invaluable, particularly in reviewing and contributing to the progress of international standards from an Australian perspective.'
While in the Netherlands and Cyprus (June 2019) Prudence attended the Conference Geospatial Week 2019, the Conference AGILE 2019 and met with various prominent researchers from TUDelft, including Peter Van Oosterom to discuss cadastre modernisation while providing greater insight into Australia's position in line with international progress.
To round out the remainder of her fellowship, Prudence will travel to Singapore and Kuala Lumpur in September 2019 to meet with the Singapore Land Authority to discuss its development of 3D strata and 3D city modelling. She will also attend the 3D GeoInfo Conference 2019, the Geomatics and Geospatial Technology Conference and the FIG Workshop on the Land Administration Domain Model.
Discover where a career in Surveying can take you
Applications for the 2019/2020 fellowship program are now open.
The NSW Surveyor General International Fellowship Program is designed to attract graduates in surveying and graduates specialising in disciplines related to spatial information (minimum level of qualification in Diploma) by offering a uniquely empowering platform to develop their area of expertise and gain knowledge of best practice and work experience through overseas travel to selected jurisdictions.
Applicants are judged by a selection panel based on the following selection criteria.
- Background information on the proposed Fellowship Program

- Benefits to the NSW surveying and spatial information industry

- Proposed organisations/contacts to visit in support of the Fellowship program
- Benefits to the individual

- Current level of knowledge and expertise in the field of the proposed project

- Employment history supported by three separate character references covering personal qualities, work experience and proposed program
The successful candidate will be expected to provide a written article (minimum 3,000 words) suitable for presentation to at least three industry forums in NSW, nominated by the NSW Surveyor General. Up to one fellowship will be offered each year. A fellowship will only be offered where there is an applicant of sufficient merit.
For more information please read the fellowship flyer available
here
.